WinStock Pro is our advanced product. In addition to all the features of WinStock, it adds: multiple portfolios, automatic dialup, e-mail and paging, audible alarms, flexible export and more.
Key Features
WinStock Pro provides all of the feature of WinStock, plus these:
Enhanced Portfolio Management
Multiple Portfolios
Buy- and Sell-Side Commissions
Cash
Automatic currency conversions for securities from multiple countries
Display of portfolio in currency of your choice
A new look-and-feel including a tree view and in-place editing of entries.

Enhanced Alarms and Indicators
New alarm conditions: % Change, Profit/Loss, Volume
Sends a message to a numeric or alphanumeric pager on alarm conditions
Sends e-mail on an alarm condition
Sends e-mail or a page with each new quote update

SysTray Ticker Toolbar
The Ticker Toolbar can be placed in the Windows SysTray (the area near the clock, usually on the lower right corner of your screen).

Automatic foreign currency conversions
Fetch quotes from any exchange in any currency. WinStock Pro will convert and display quotes and portfolio information in any currency you choose.

Enhanced User Interface
New look and feel including better organized menus
Automatic currency conversions for securities from multiple countries
Improved symbology for indication of alarm conditions
Optional double-sized icons to improve readability
Permanent description of security may be saved

Enhanced Import/Export
Automatic saving of intra-day quotes
Automatic saving of end-of-day quotes
File-based export to Quicken of High/Low/Volume (in addition to existing automatic export of price).
Export to popular formats including Metastock, QuoteLine and Prodigy QuoteTrack
Custom file export in any format. Useful for export to spreadsheets or database programs
More intuitive backup/restore of portfolio

Enhanced Browsing
Supports graphs from DBC, Investor's Edge, Stockcenter and Yahoo (in addition to Lombard).
Supports news from PC Quote and Quote.com (in addition to Yahoo).
Intra-day graphs
Direct browsing to EDGAR

Improved Dialup Performance
Auto-dials your ISP and hangs up after downloading quotes.
Auto-dials your ISP for web-based paging services
Auto-dials your paging provider for TAP-based paging services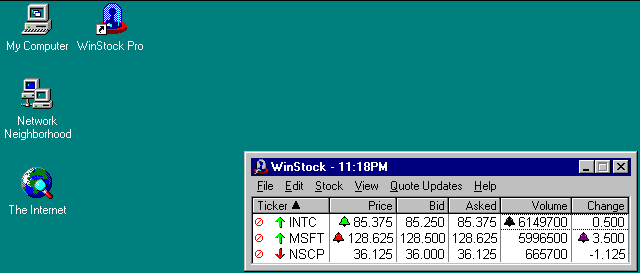 Sample desktop showing WinStock's main window, the Ticker Toolbar, and the SysTray Ticker.
Click here for information on Pricing and Registration of WinStock.